3D Realms (legal name Apogee Software, Ltd.) is an American video game publisher and video game developer based in Garland, Texas, United States, responsible for developing Shadow Warrior Classic.
Background
Edit
Apogee started in 1987 with the release of Scott Miller's Kingdom of Kroz, which used crude extended ASCII characters as graphics. Nevertheless, the game sold quite well and Apogee was born. In 1991, George Broussard joined the company as co-owner, bringing with him several games of his that were previously released under the name Micro F/X.
Apogee published games by other developers in addition to its own in-house titles. One of these developers, id Software, contributed to Apogee's success with games such as Commander Keen and Wolfenstein 3D, but later severed their ties with Apogee with their release of Doom in 1993 (mostly because id was afraid Apogee could not handle the phone orders to upgrade the shareware version of Doom).
Apogee to 3D Realms
Edit
With the original intent to create a division for every genre of game Apogee produced, the two brand names 3D Realms (formed in July 1994) and the now disused Pinball Wizards were created. Instead of publishing every game under Apogee as it had been in the past, the goal of this strategy was to create a different brand for each type of game genre, making each new game identifiable based on which brand it belonged to. This enabled Apogee to target different markets.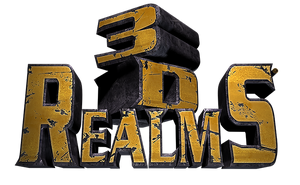 However, many of those varied genres such as platform or scrolling shooter (that were much of Apogee's early releases) were slowly dying out in the late 1990s, which made this strategy unnecessary. In addition, due to the increasingly lengthy development time in producing a game title, video game publishers were no longer releasing titles at the rapid rate at which they once were.
3D Realms was created in 1994 for the 3D game Terminal Velocity and was responsible for the latest installments of the successful Duke Nukem games and for producing the Max Payneseries (earlier 3D games like Rise of the Triad were released under the Apogee name). The Pinball Wizards name was created for the 1997 pinball title Balls of Steel, but has not been used since.
The last game to be published under the Apogee name was Stargunner in 1996. Since 1998, all the company's games have been using a 3D engine (even if the gameplay is 2D, like in Duke Nukem: Manhattan Project). As a result, 3D Realms has replaced Apogee as the brand name to publish games under. Also, by the end of the 1990s, Apogee felt their brand name was more associated with old, outdated games and adopted the 3D Realms brand for all future releases. When the 3D Realms name was first conceived, the official motto was Reality is our Game. This motto is no longer used.
External links
Edit